Generating new leads is effective when done through inbound marketing. Research has shown that inbound marketing strategies like content marketing help customers choose brands and make sales. Companies will lose prospective leads if they continue using traditional marketing strategies because inbound marketing can't reach everyone. Methods and approaches that were effective a decade or even five years ago are ineffective now.
Reason? Value-based selling is the main driver of the ongoing changes in B2B buying behavior.
Outbound marketing can help in this situation.
According to HubSpot's 2021 State of Marketing report, 18% of marketers believe outbound marketing strategies give the best sales leads.
According to 32% of marketers, outbound marketing generates leads as successfully as inbound marketing. Also, according to 62% of marketers, their company's outbound marketing initiatives are successful.
Outbound lead generation is challenging when moved through the sales funnel since the leads may not be familiar with your product or service.
Let's delve deep into outbound lead generation and the successful sales strategies –
What is Outbound Lead Generation?
Sales are essential in every business. A business can earn money by using lead generation to build a pipeline of potential customers who may eventually become paying ones. You actively contact potential customers who fit your ideal customer profile (ICP) using an outbound lead generation strategy.
In the following YouTube video, Patrick Dang offers an inside scoop on what B2B lead generation is and how to use it to increase sales.
The goal is to pique their curiosity and launch an action to build a sales pipeline. This strategy entails sales representatives contacting potential clients using social media, cold emailing, or cold calling. Leveraging these strategies and concentrating on your advertising, you may effectively show potential customers how your company can benefit them.
Understanding Outbound and Inbound Leads
Outbound and inbound leads are two distinct approaches to lead generation, each with its own special traits and techniques. Let's examine their differences in more detail:
This table compares the initiatives, approaches, levels of audience awareness, timing, lead classifications, focuses, and sales funnel stages of outbound versus inbound lead generating strategies.
Your outbound strategy should, first and foremost, offer concise responses to the following important questions:
What differentiates your value proposition from other businesses?
What compelling reasons could convince them to interact with you or to buy your products or services?
Addressing these two fundamental questions is the key to unlocking valuable insights and empowering you to fine-tune your outbound lead generation strategy for success.
With that foundation laid, let's delve into the exciting world of outbound lead generation and see the entire process in action!
How Outbound Lead Generation Strategy Works?
Expanding your reach and generating more reliable leads are essential to succeed in the cutthroat world of B2B sales. Generating outbound leads is essential since it paves the way for Account Based Marketing (ABM). Instead of waiting for potential customers to come to you, it entails making contact with them.
Let's examine the mechanics underlying the outbound lead generation method—
1. Introduction and Intent during Initial Contact
Making the initial contact is the first stage in the outbound lead generation process. This can be done by sending a message on LinkedIn or an introduction email. It's crucial to make your intentions obvious in this initial contact by offering services that can assist your B2B prospect in increasing productivity, hitting sales targets, or taking care of their needs.
2. Email Follow-Ups: Building Relationships
A series of timely follow-up emails after the initial contact can be very beneficial.
a) Follow-up Email 1: Relate the contents of the first email and highlight the main ideas. Give the prospect a compelling call to action (CTA) that encourages them to download a resource or get in touch for more information.
b) Follow-up Email 2: Send a related article, research paper/journal, or infographic to the subject of your first follow-up email. Once more, end with a CTA that tempts the prospect to download more data or make contact.
c) Follow-up Email 3: Keep sending out informative emails. Share case studies that explain the real advantages your products or services have listed to other companies. Conclude with a CTA for the prospect to get in touch, register for a free trial, or ask for a product demo.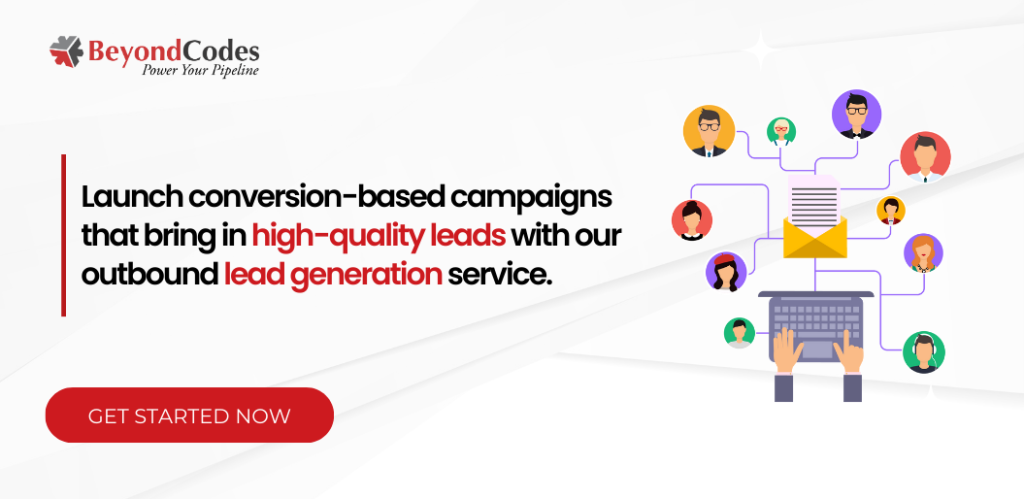 3. Making Contact on LinkedIn and Developing Relationships
Building a personal relationship requires a phone call. Refer to the earlier emails during this discovery call, find out if the prospect has any questions or concerns, and try to set up a meeting. Leave a brief, engaging message on the voicemail if the call is unanswered.
4. Creative Approaches for When the Prospect Is Non-Responsive
Not every lead will respond right away or in the way you expect in the dynamic world of outbound lead generation. In the face of apathy, creativity can be your solution.
a) Use Other Social Media Platforms: Look for the prospect on different social media sites. To get their notice, tag them, leave comments on their postings, or respond to any questions they may have posted in forums.
b) Connect with Other Employees: Connect LinkedIn with an employee at the prospect's organization. You might gain access to decision-makers using this other connection.
c) Use Common LinkedIn Connections: Find LinkedIn connections you have in common with the prospect and ask them to introduce you. This is frequently a strong approach to building trust.
d) Engagement at the Executive Level: If your target audience consists of C-suite or VP-level executives, consider contacting a colleague at the executive level. Senior management frequently reacts to peers better.
8 Effective Outbound Lead Generation Strategies You Need to Know
Here are nine effective outbound lead generation strategies for successful B2B sales:
1. Cold Calling
Despite the common opinion of many people, cold calling is still practiced. It still works well for increasing sales and expanding your company. To set appointments with potential leads, make well-researched cold calls. Make your sales pitch unique and concentrate on relieving the prospect's problems.
Recent studies show that when it comes to B2B decision-makers, there is still a strong inclination for direct communication via phone. Approximately 57% of C-level executives and nearly half of directors/managers are responsive to sales calls.
Here are some pointers to make a successful cold call:
Do extensive study on the prospects
Prepare a script for the call
Get ready and practice before the call
Always be courteous and smile during the exchange (the person on the other end can hear your grin, after all)
Avoid being aggressive and adopt a consultative style
Always express gratitude for their time
2. LinkedIn Outreach
Within the social circle, various social media platforms have different roles. Because of its well-known business-focused networking, LinkedIn is popular for businesses to introduce their outbound lead generating techniques.
Particularly in the B2B industry, one of the biggest platforms and most effective tools for networking with like-minded people and identifying potential customers is LinkedIn.
In fact, 59% of B2B marketers claim to use LinkedIn to create leads.
Leverage LinkedIn automation tools to quickly engage with prospects, boost your sales, and get more recommendations.
These tools allow you to:
View profiles and automatically connect by sending a request.
Send welcome and follow-up emails.
Prospects can be filtered down based on their position, level of seniority, geography, background, and other factors.
Extract important details out of profiles and enter them into your CRM.
3. Provide Personalization
Outbound marketing needs personalization to be successful. Creating personalized communications and differentiating your outreach from generic spam. It distinguishes you from the competition. Developing a meaningful path toward buying is important to facilitate a symbiotic relationship with the client by studying their habits and preferences.
Positive feedback and more sales-qualified leads are produced by personalized content. Many relationship-building strategies are supported by a wealth of customer data, which increases trust. Personalization improves the customer experience by showcasing the value of your services, ultimately opening the door for prospective sales.
Personalization is possible with outbound approaches in many areas, including targeted ads, emails, resolving objections, scripts, and landing pages. This strategy develops rapport and a connection early on in the sales process, creating the conditions for success.
4. Prioritize Multichannel Outreach
Prioritizing multichannel outreach is a practical way to increase the legitimacy of your offerings. Increase customer retention rates and build a reliable buying process by leveraging several channels, including direct mail, telemarketing, pre-targeted ads, and social media networking.
Multi-channel outreach is connecting with potential clients via a variety of sales channels to forge connections and produce B2B leads. By engaging B2B prospects on various platforms, you can enhance customer engagement and ensure your message gets through, even if they miss it on one channel.
Building trust with decision-makers through multiple channels requires consistency and avoiding sending contradictory messages. Running multichannel campaigns has several advantages, but you must start cautiously honing each channel for the best efficiency.
Quick Plug: Beyond Codes can help you reach your company's potential! Allow our experienced outbound lead generation team to identify, nurture, and convert your B2B prospects into profitable possibilities. Get started now.
5. Pay-per-click (PPC)
Pay-Per-Click (PPC) is a marketing technique in which you are charged each time your advertisement is clicked online. It's a budget-friendly strategy to increase lead generation and revenue. Create ads, place them on search engine results pages by bidding on specific search phrases, and use PPC.
PPC campaigns provide flexibility, easily adjusting to a range of budgets and marketing requirements. Thanks to their advanced segmentation and accurate targeting capabilities, ads are delivered to the appropriate population, preventing budget wastage. PPC can be more expensive than other methods, but it is a quick and effective technique to increase brand awareness.
PPC ads have costs for each click, which can mount up quickly, especially when using competitive keywords. Even though PPC is an essential weapon in your B2B lead generation arsenal. It is expensive because it provides a direct route for acquiring potential clients.
6. Don't Limit Yourself to BANTT
When interacting with prospects, this strategy pushes sales development representatives (SDRs) beyond the conventional BANT structure (Budget, Authority, Need, and Timing). BANT, frequently employed as a checklist exercise, may unintentionally eliminate potential customers who are still in the early phases of their buying journey and are unaware of their concerns.
SDRs can use frameworks like PACTT to address this problem:
Pain: Identify the prospect's challenges and pain points.
Authority: Determine their decision-making power or influence.
Consequence: Understand the impact of their pain points on their business.
Target Profile: Check if they fit your ideal customer profile.
Timing: Consider when they might be ready to address their problems.
SDRs can better engage with potential leads by adopting the PACTT framework instead of BANT, gaining a deeper understanding of their pain points and needs. The result is a more tailored and empathetic sales process.
7. Use Referral Marketing
Referral marketing is a powerful technique for generating outbound leads since it uses referrals from happy clients, partners, and contacts. It leverages word-of-mouth recommendations from satisfied customers, partners, and industry connections. It is about converting your customers into brand advocates while incentivizing them to share information about your company.
Referral marketing involves encouraging people to spread the word about your business while converting your customers into brand ambassadors. Inbound referrals come to you after hearing about your business from another source.
As a result, referral marketing supports the growth of high-quality leads, improves brand visibility, uses extensive networks, and fosters long-lasting customer loyalty, providing favorable results for lead generation efforts.
8. Content Syndication
Syndicating content is one of the best outbound lead generation methods. You can leverage your existing content to repurpose and publish on various distribution channels. For instance, if a blog on your website receives a lot of traffic, you may turn it into a podcast or YouTube video to engage the target audience.
It entails spreading the word about your work on other websites, increasing its exposure, and reaching new audiences. This, in turn, increases visitors to your website. Whether it's blog entries, articles, infographics, videos, or something else, syndication is a win-win situation where third-party websites get useful, cost-free information.
To increase its effectiveness, share your information using email campaigns and online communities like Facebook and LinkedIn groups, forums, and subreddits. These platforms act as efficient distribution methods, ensuring that a larger and more varied audience sees your content and ultimately helps generate worthwhile leads.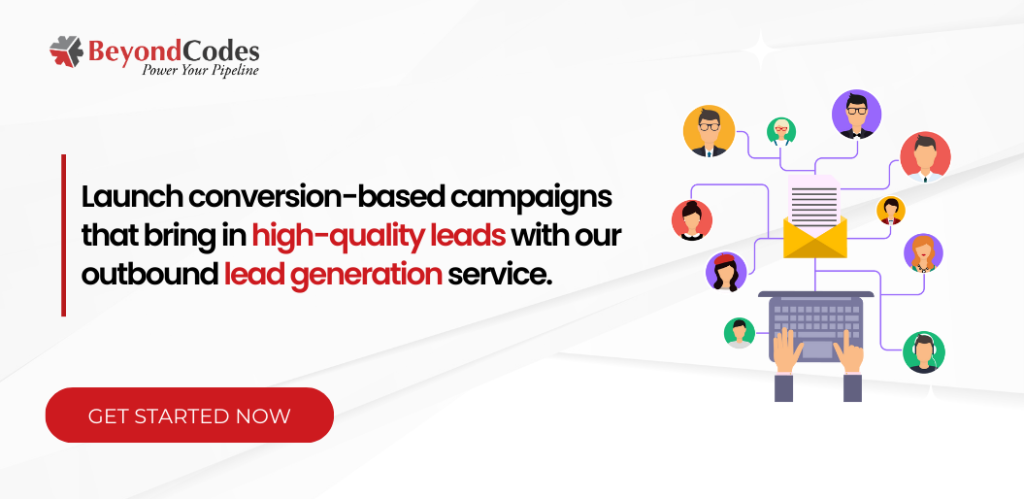 The Path to Success: Adaptation and Persistence
Understanding outbound lead generation is critical for a successful B2B sales strategy in today's dynamic business market. While inbound marketing has its advantages, outbound techniques are critical to targeting a larger audience and generating valuable leads. The transition to value-based selling has highlighted the need for proactive outreach.
The cornerstone of effective outbound lead generation is adaptability and persistence to adjust your approach until you create a significant number of quality B2B leads.
Businesses can increase their credibility and develop trust with potential customers by using innovative strategies such as LinkedIn outreach and personalized communication, as well as prioritizing multichannel outreach. Leveraging PPC, referral marketing, and content syndication strategies strengthens the foundation of a successful outbound lead generation campaign.
Few Hand-Picked Articles For You